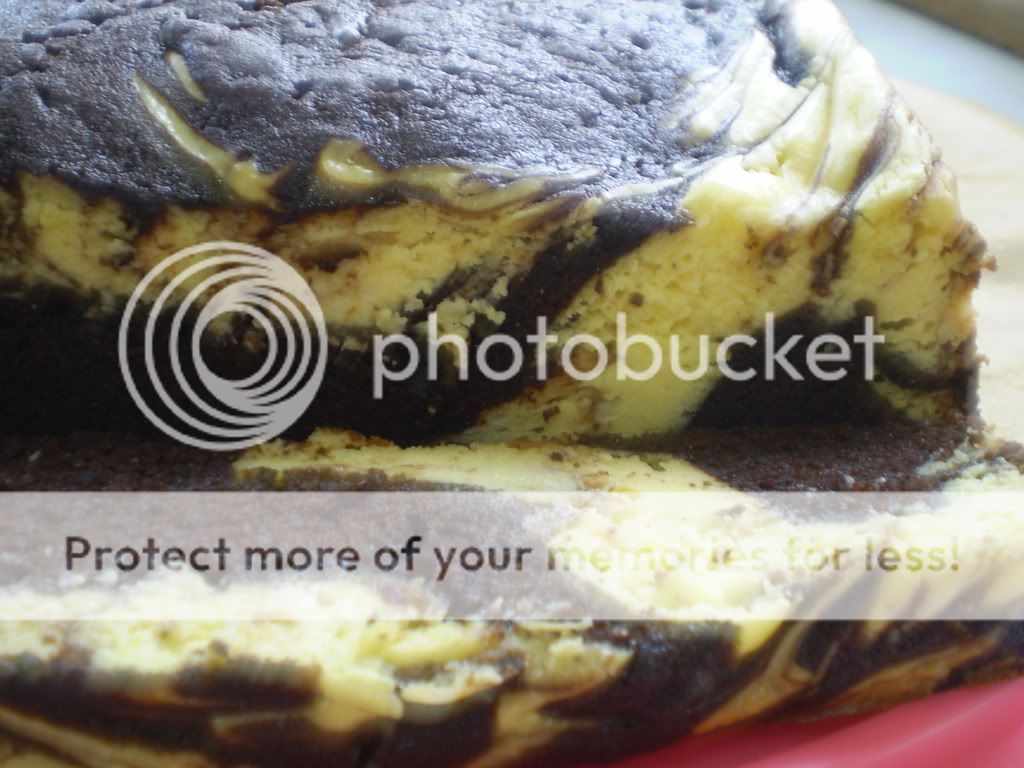 The story goes that my 2nd sister came home for the weekend and she wanted me to bake cheesecake, whereas I was having a carving for a moist chocolate cake. I was in no mood to bake two cakes since I was tired ( just came back from Cherating the day before) so I came up with this cake to satisfied both. Very yummy.. its like a marbled brownies but ,,i prefer the chocolate cake since its more moist, and it was gone in no time. In the middle of cooking I found out that I have run out of eggs ( usually I kept spare for times like this), fortunately my mother earlier had been collecting "telur ayam kampung" from the chicken coop, so intead of two eggs i add another since the ayam kampung eggs is smaller but the yolk is more yelowish in colour, maybe I should have called this coklat cake vesion telur ayam kampung then?
Chocolate Mixture ( adapted from CMG blog)
1 3/4 cups all purpose flour*
1 cup cocoa powder*
1 1/2 teaspoon baking powder*
1 teaspoon soda bicarbonate*
1/2 teaspoon salt*(*combined & sifted)-A
1 3/4 cups caster sugar
3 large eggs
220g butter
1 teaspoon vanilla essence
200 ml evaporated milk/milk*
1 cup hot water*
1 teaspoon instant coffee/ nescafe*(*combined and stir together until mixture formed)-B
Cream Cheese Mixture
250 gm cream cheese
1/4 cup sour cream or can also use whipping cream
1 tsp esen vanila
1/4 cup caster sugar
1 egg
(beat cream cheese, sugar and sour cream till smooth, add in eggs and vanilla)
1. Preheat oven to 180 degree C. Grease pan and line bottom with baking paper.
2.In a large mixing bowl, beat butter with sugar until creamy. Add vanilla and eggs one at a timeuntil light and fluffy.
3. Fold in mixture A ( flour) in btaches alternately with mixture B ( chocolate). Start and end with flour.
4. Pour mixture into lined pan, topped with cream cheese mixture in patches on top.
5. Baked for 45-50 minutes or until skewer comes out clean when inserted into middle of the cake.